It's Crawfish Season – Yay!!
This Week on Twila TV's "Holly's Trim & Terrific Louisiana Kitchen" I featured our out-of-this-world Louisiana ingredients in the Crawfish and Artichoke Rice Dish. I look forward to crawfish season every year and love to cook with the leftover tails from our yummy crawfish boils. If you love fettuccine sauce you will love this dish!
I am a bread girl, and I just had to pair this savory recipe with one of my all-time favorite sides – Yam Biscuits! Healthy comfort food at it's finest, these delicious biscuits have a touch of yam's natural sweetness that will melt in your mouth. Best of all, they use Bisquick baking mix for extra ease and yumminess! Serve them as a side to a meat tray, with your meal and especially at breakfast – so many ways to gobble up this standout snack! Watch me make these dishes and more.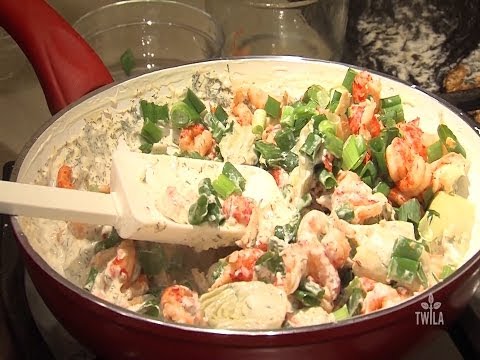 Yam Biscuits from Holly Clegg's trim&TERRIFIC Gulf Coast Favorites cookbook
Whip up these nutritious and delicious biscuits with pantry ingredients. Make different sizes of biscuits to match their intended use. I've served these at parties with a meat tray.
Makes 20 – 24 biscuits
1 (15-ounce) can sweet potatoes (yams), drained and mashed
4 cups biscuit baking mix
1/2 teaspoon ground cinnamon
3/4 cup skim milk
3 tablespoons butter, softened
1. Preheat oven 450°F. In mixing bowl, mix mashed yams with baking mix and cinnamon. Add milk and butter to mixture, stirring until blended.
2. Roll on floured surface to 1-inch thickness. Cut with 2-inch cutter or glass, and place on ungreased baking sheet.
3. Bake 10 – 12 minutes, or until golden brown. Serve hot.
Nutritional information per serving
Calories 115, Protein (g) 2, Carbohydrate (g) 17, Fat (g) 4, Calories from Fat (%) 35, Saturated Fat (g) 1, Dietary Fiber (g) 1, Cholesterol (mg) 0, Sodium (mg) 286 Diabetic Exchanges: 1 starch, 1 fat
Terrific Tidbit: For a savory biscuit, delete the cinnamon and add 1 tablespoon chopped parsley and 1 teaspoon seasoning salt or seasoning mix.
Check out more healthy Louisiana recipes.