St. Patrick's Day Dessert-Try Homemade Mardi Gras King Cake
For your St. Patrick's Day dessert, make this holiday special with this easy-to-make King Cake recipe with crescent rolls. Just "go green" with my most popular recipe and my very favorite addiction, EASY KING CAKE. With a luscious cream cheese with cinnamon and brown sugar filling, it doesn't get much better than this yummy recipe you can quickly whip up at home. For brunch, snack or dessert, this is an amazing treat.
My Most Requested Recipe Makes Great St. Patrick's Day Dessert     
I turn to my book with Louisiana and southern recipes, Gulf Coast Favorites for my most requested recipe, my king cake made with crescent rolls and ingredients you probably have in your kitchen.!!  People all over say they prefer this easy and fun-to-make king cake more than the bought ones!!!!!   This cookbook, trim&TERRIFIC GULF COAST FAVORITES cookbook  includes super-simple southern recipes to enjoy in your own home, wherever you live.
St. Patrick's Day King Cake and Kid's love to help
Made with crescent rolls and green food coloring for the icing-you can even let the kids make this one for you.  Fun and fantastic, for adults and kids, this is a recipe you will make over and over.  My website has tons more healthy, easy recipes for everyday cooking!  All you need is green food coloring, a few minutes to put together and you have an an amazing St. Patrick's Day Dessert.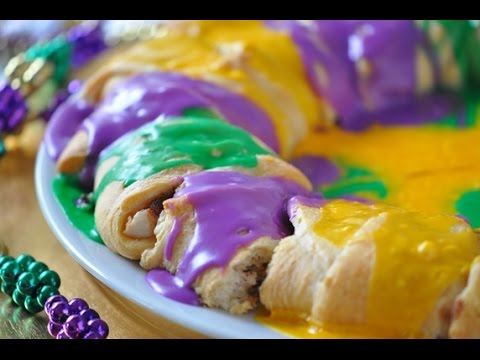 SHOP with Promo code LA25  (25%off) for Gulf Coast Favorites cookbook-all healthier!
King Cake with Cream Cheese Cinnamon Filling from trim&TERRIFIC Gulf Coast Favorites (all your Louisiana favorites-healthier).  Check out  YouTube video to watch me making this delicious treat!  Halloween use orange & black, Thanksgiving use autumn colors, Christmas use holiday colors, Valentine's Day go pink, St. Paddy's Day go green and Easter's pastel colors for your icing instead of Mardi Gras colors.
Makes 16 servings
2 (8-ounce) cans reduced-fat crescent rolls
4 ounces reduced-fat cream cheese
2 tablespoons confectioners' sugar
1 teaspoon vanilla extract
2 tablespoons butter
1/3 cup light brown sugar
1 tablespoon ground cinnamon
1. Preheat oven 350°F. Coat 10-inch round pizza pan with nonstick cooking spray.
2. Separate crescent rolls at perforations, into 16 slices. Place slices around prepared pan with points in center. About halfway down from points, press seams together.
3. In mixing bowl, beat cream cheese, confectioners' sugar, and vanilla until creamy. Spread on dough in center where seams have been pressed together.
4. In another small bowl, combine butter, brown sugar, and cinnamon with fork until crumbly. Sprinkle over cream cheese. Fold dough points over filling, then fold bottom of triangle over points forming a circular roll like a king cake.
5. Bake 20-25 minutes or until golden brown. Cool slightly, drizzle with colored Mardi Gras Icing.
St. Patrick's Day Icing:
1 cup confectioners' sugar
1-2 tablespoons skim milk
1/2 teaspoon vanilla extract
Green food coloring
1. In small bowl, combine all ingredients.   Drizzle over baked cooled cake.
Nutritional information per serving: Calories 184 Calories from fat 36% Fat 7 g Saturated Fat 3 g Cholesterol 9 mg Sodium 275 mg Carbohydrate 26 g Dietary Fiber 0 g Sugars 16 g Protein 3 g Diabetic Exchanges 11/2 carbohydrate 11/2 fat
With over 1 million cookbooks sold, Holly Clegg has become a culinary expert on easy, healthy and practical recipes through her best-selling trim&TERRIFIC® cookbook series, including the more targeted health focused cookbooks, Diabetic Cooking with the American Diabetes Association, Eating Well Through Cancer and Eating Well to Fight Arthritis. Clegg has appeared on Fox & Friends, NBC Weekend Today, QVC, The 700 Club, USA Today, Web MD and The Huffington Post. She partnered with Walmart for healthy videos and also has a phone application, Mobile Rush-Hour Recipes. For more information, visit
www.hollyclegg.com
or
The Healthy Cooking Blog
for more recipes and tips.
Latest posts by Holly Clegg (see all)