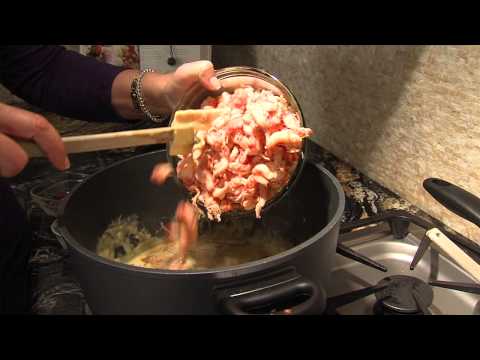 Down in south, we look forward to crawfish season. And every year I look forward to making a large dish of Crawfish Fettuccine, especially when my kids and their friends come in town. If you LOVE our Louisiana food and want easy recipes, check out my Gulf Coast Favorites cookbook!!  And, remember all your favorites are trim & terrific!  Another great Louisiana recipe    Watch me make it here in "Holly Clegg's trim&TERRIFIC Kitchen, This Week in Louisiana Agriculture."
Crawfish Fettuccine from Gulf Coast Favorites Cookbook
This is my southern standby when we have a group coming over or I need to freeze a dish for someone. The fettuccine and crawfish (cooked shrimp may be substituted) in this wonderful cheesy white sauce is a very requested recipe.
Makes 8-10 servings
1 pound fettuccine
3 tablespoons butter
1 large onion, chopped
2 green bell peppers, cored and chopped
1 red bell pepper, cored and chopped
1 teaspoon minced garlic
1/4 cup all-purpose flour
1 1/2 cups skim milk
1/2 pound light pasteurized cheese spread
2 pounds crawfish tails, rinsed and drained
2 tablespoons chopped parsley
1 tablespoon Worcestershire sauce
1/4 teaspoon cayenne
1 bunch green onions, chopped, optional
1. Preheat oven 350°F.
2. Cook fettuccine according to package direction. Drain; set aside.
3. In large nonstick pot, melt butter and sauté green pepper, red pepper, garlic until tender. Add flour, stirring until mixed.
4. Gradually add milk, stirring until smooth. Add cheese, stirring until melted.  Add crawfish, parsley, Worcestershire sauce, cayenne. Toss with pasta.  Sprinkle with green onions, cook, covered 40 minutes or until well heated, stirring as needed.
Nutrition information per serving:  Calories 362, Protein (g) 26, Carbohydrate (g) 46, Fat (g) 8, Calories from Fat (%) 20, Saturated Fat (g) 4, Dietary Fiber (g) 2, Cholesterol (mg) 119, Sodium (mg) 272, Diabetic Exchanges: 2.5 lean meat, 2.5 starch, 1 vegetable