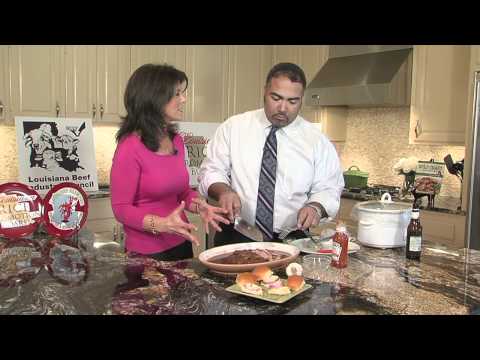 I had so much fun filming this for 'This Week in Louisiana Agriculture' and this time they came to me in my kitchen. Can you believe this Easy Roast is only 3 ingredients – it really is SO easy! You will get a sneak peak from my new book, KITCHEN 101: Secrets to Cooking Confidence -.  Choose sirloin as meat that ends in 'loin' or 'round' is your leanest cuts. And besides being so delicious, what makes this recipe so great is that you basically fix it and forget it in the crock pot, it cooks itself!
Easy Roast   from KITCHEN 101
Intimidated by cooking a roast?  Don't be – three ingredients make up a scrumptious sauce. Toss in slow cooker and your work is done for a memorable meal.
Makes 8 (6-ounce) servings
1 (4-pound) beef sirloin tip roast, trimmed of excess fat
6 cloves garlic, sliced or garlic powder
Pepper to taste
1 cup lite beer
1 (12-ounce) bottle chili sauce
1 envelope onion soup mix
1.Cut slits in roast and stuff pieces of garlic throughout meat. Season meat with pepper.
2. In 3 1/2-6-quart slow cooker, insert plastic liner if desired, and mix together beer, chili sauce and onion soup mix. Add roast and turn to coat with sauce. Cook on LOW 6-8 hours or until tender.
Note: If not using a slow cooker, bake 325°F. about 4 hours or until tender.
Tip: Don't confuse Chili Sauce (found by mayo and dressings section of grocery) with Asian "hot" chili sauce or you'll have a very spicy recipe. Season roast the day before and refrigerate, if time permitted.
Calories 346kcal
Calories from Fat 24%
Fat 9g
Saturated Fat 4g
Cholesterol 111mg
Sodium 877 mg
Carbohydrates 12g
Dietary Fiber 0g
Total Sugars 8g
Protein 49g
Dietary Exchanges: 1 other carbohydrate, 6 lean meat
Tip: To cook safely, make sure your slow cooker is filled at least half full, but no more than 2/3 full.
For Holly's easy crock pot recipes, check out her new book, KITCHEN 101 with chapter, Crock Pot Convenience Cooking!!  Check out Holly's easy healthy recipes!!