For both of these recipes, I turn to my Louisiana favorite cookbook, Gulf Coast Favorites for a healthier version of all your southern favorites!!!  Veggie Paella, a one-dish meal, turns into a scrumptious crawfish dish by adding crawfish to this wonderful  and simple recipe.  You can keep a vegetarian option of can add crawfish, shrimp, or chicken; either way this easy recipe is packed with flavor and nutrition. Serve  with the Pear and Mixed Green Salad with Orange Vinaigrette for a memorable meal.  Both these recipes are below or you can also watch me prepare them on the TV segment also below.
Veggie Paella (added crawfish) from GULF COAST FAVORITES
Deceptively easy, this colorful recipe boasts a balance of flavor and nutrition.
Makes 8 servings
1 tablespoon olive oil
1 cup chopped onion
1 red bell pepper, cored, chopped
1 cup sliced mushrooms
1 teaspoon minced garlic
2 (5-ounce) packages yellow rice
Water (according to rice package directions)
1 cup chopped tomatoes
1 pound crawfish tails, optional
1 (10-ounce) package frozen peas, thawed or frozen edamame, thawed
1/2 teaspoon paprika
1 teaspoon dried basil leaves
1. In large nonstick pot, heat oil, sauté onion, red pepper, mushrooms, garlic 5–7 minutes.
2. Add rice and water, bring to boil. Reduce heat, cover, cook 20–25 minutes or until rice is done.
3. Stir in remaining ingredients until heated through.
Nutritional information per serving:
Calories 227, Calories from fat (%) 9, Fat (g) 2, Saturated Fat (g) 0, Cholesterol (mg) 0, Sodium (mg) 668, Carbohydrate (g) 43, Dietary Fiber (g) 6, Sugars (g) 5, Protein (g) 9, Diabetic Exchanges: 2 1/2 starch, 1 vegetable
Serving Suggestions: This vegetarian meal is great with a spinach salad and fruit.
Terrific Tidbit: Add whatever veggies or beans you're in the mood as the rice is the base to hold the vegetables. This may also be served as a side.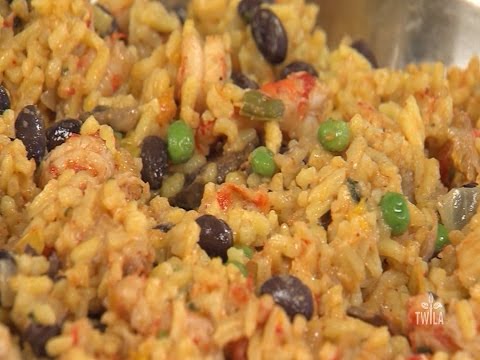 Pear and Brie Mixed Green Salad with Orange Vinaigrette from GULF COAST FAVORITES
The perfect merging of mild creamy Brie, fragrant walnuts, and the fresh bite of pears ensures this salad a permanent place in a salad-lovers arsenal of recipes.
Makes 6 servings
1/3 cup orange juice
1/2 teaspoon dry mustard
1 teaspoon Dijon mustard
1/4 cup balsamic vinegar
2 tablespoons olive oil
6 cups mixed salad greens
1 pear, cored and cut into chunks
3 tablespoons chopped red onion
2–3 ounces Brie cheese, rind removed and cut into small chunks
3 tablespoons chopped walnuts, toasted
1. In small bowl, whisk together orange juice, dry mustard, Dijon mustard, vinegar, and olive oil.
2. In large bowl, combine remaining ingredients. When ready to serve, toss with dressing.
Nutritional information per serving
Calories 140, Calories from fat 61% , Fat 10 g, Saturated Fat 3g, Cholesterol 9 mg, Sodium 94mg Carbohydrate 11 g, Dietary Fiber 3 g, Sugars 7 g, Protein 4 g, Diabetic Exchanges 1/2
Carbohydrate, 2 fat